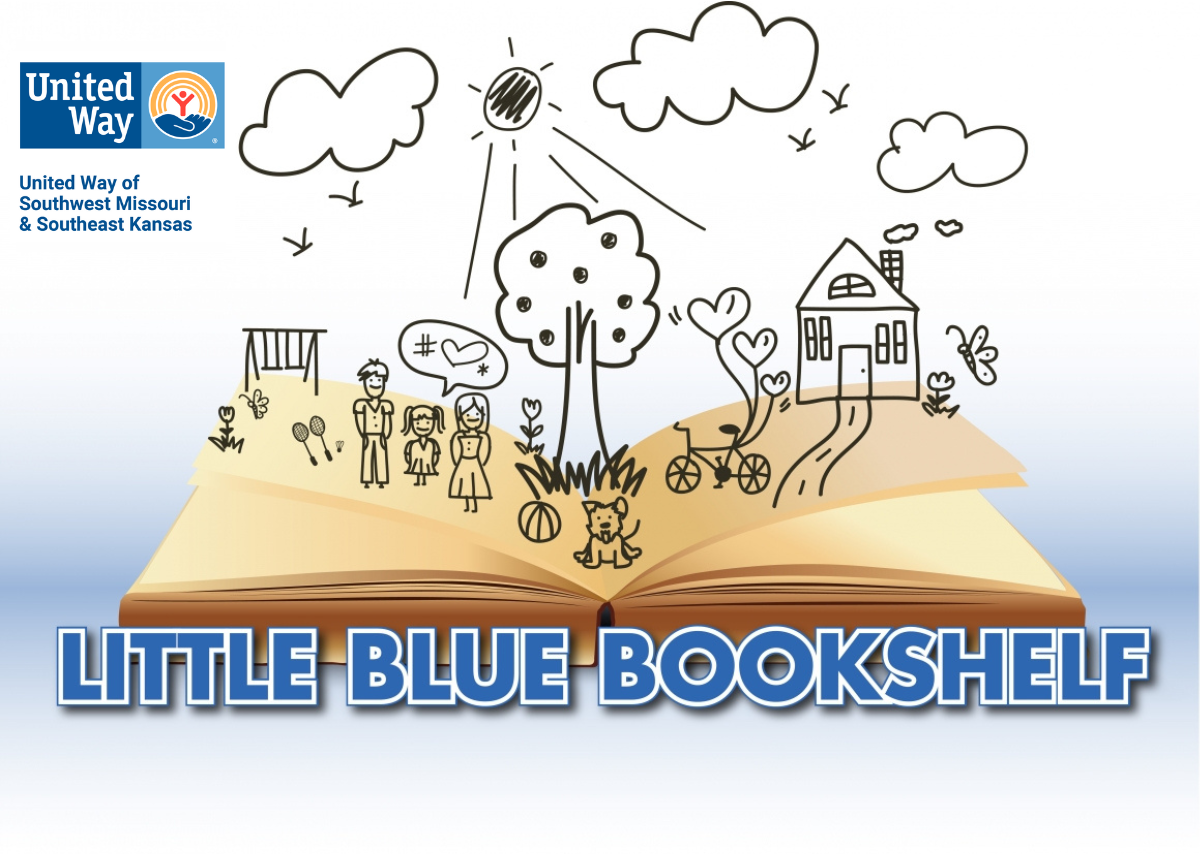 The Little Blue Bookshelf is stocked with gently-used or new books appropriate for children from birth – 3rd grade in the community where families with young children visit. Primarily, the project focuses on families experiencing stressful situations or crisis, and encourage children to visit the shelf and choose a book to keep and share. 
Research shows if a child is successful in Kindergarten it is likely they will be successful in third grade. If they are successful in third grade and reading on the proficient level, it is more likely they will graduate high school on time.
Little Blue Bookshelf aims to give children easy access to age appropriate books. Book ownership is important in fostering an interest in reading and a love for books. Children feel pride in owning their own books and develop confidence in reading when books are easily within reach and can be read again and again. Providing books to young children in our community is vital to fostering a love and appreciation for reading and learning for life. The goals of this program are to increase book ownership by families, encourage adult-child interactions with books, involve community members in this literacy effort through book donations, and keep books circulating within the community.
Get Involved!
Volunteer today by calling United Way of Southwest Missouri and Southeast Kansas - you can help clean, sort, and refill bookshelves throughout the community! You can also sponsor a shelf at a new location ($250) or make a cash donation to purchase new books! Call 417-624-0153 for more information.
Donate new or gently used books today at the United Way offices located at 3510 East 3rd Street, Joplin or 117 West 4th Street, Pittsburg.
Volunteers or service groups/organizations are needed to hold book drives, sort/clean donated books and volunteer to go out into the community where the bookshelves are located to re-stock with books, organize the shelves and make sure the shelves are not damaged. Call the United Way to learn more about how you can contribute to this community program.

Little Blue Bookshelf Locations:
JOPLIN
Access Family Care - 530 S. Maiden Ln
Boys & Girls Club - 317 Comingo Ave. 
Catholic Charities - 403 E. 4th St
Children's Center of SWMO - 1029 E. 7th St.
Community Clinic of Southwest Missouri - 701 S. Joplin Ave
Crosslines Ministries - 320 School Ave
Economic Security Corp - 302 S. Joplin Ave
Freeman Pediatric Care - 3333 McIntosh Circle Suite 1
Freeman Pediatric Partners - 1030 McIntosh Circle Suite 2
Freeman Children's Clinic-1030 McIntosh Circle Suite 1
Jasper County Family Services Division - 601 Commercial
Joplin NALA Read - 123 S. Main St
Joplin Police Department - 303 E. 3rd St
Lafayette House - 1809 S. Conner Ave.
Mercy Clinic Joplin-3126 S. Jackson
Ozark Center / Will's Place - 1800 W. 30th St
Pediatric Associates of SWMO - 2531 E. 32nd St
Ronald McDonald House - 3402 S. Jackson Ave.
Salvation Army-320 E. 8th St
WIC Office - 321 E. 4th St
WEBB CITY & CARL JUNCTION:
Carl Junction Police Department - 302 N. Main - Carl Junction
CSS Early Learning Center - 1401 W. Austin - Webb City
Webb City Heritage Preschool - 1020 N. Main - Webb City
Webb City CARES - 1020 N. Main - Webb City
PITTSBURG, KS:
Children's Advocacy Center - 123 W. Adams St.
Community Health Center of Southeast Kansas - 3011 N. Michigan 
Pittsburg Family YMCA -1100 N. Miles
Pittsburg Police Department Juvenile Intake - 201 N. Pine St.
Safehouse Crisis Center - 409 N. Walnut St. 
Salvation Army - 307 E. 5th St.
Wesley House - 411 E. 12th St.